J. Stevenson Zint
1947 ~ 2003


Stevenson's painting style was described as classical, impressionistic, luminous, tonalist, traditional, etc.... " I am not sure how I would describe my style. In the purest sense it is no one of these but a combination of all perhaps. And, lets hope, aiming towards the best qualities of all these forms!" "Fine art patrons are showing a healthy revival of interest for landscape painting in the classical tradition, and I am thrilled! I have been painting landscapes "en plein air" as well as finishing pieces in my studio for the past 20 years.

I am so glad I stayed true to my form and didn't get caught up in the struggle of not knowing who I was or where I wanted to go. I knew it the first time I painted outdoors. I was hooked!"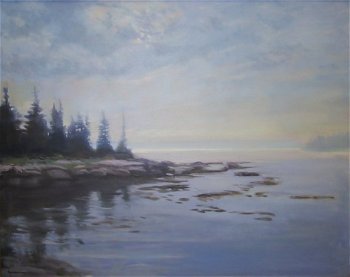 "Maine" - 2002


My training and love for outdoor painting started in Burnsville, North Carolina, in 1978, at a school started by the late artist, Frank Herring, and continuing with artists Everett Kivette of Burnsville, North Carolina, and John Bryan, of MClean, Virginia. It was in this environment that a passion for the landscape as my form of art developed. "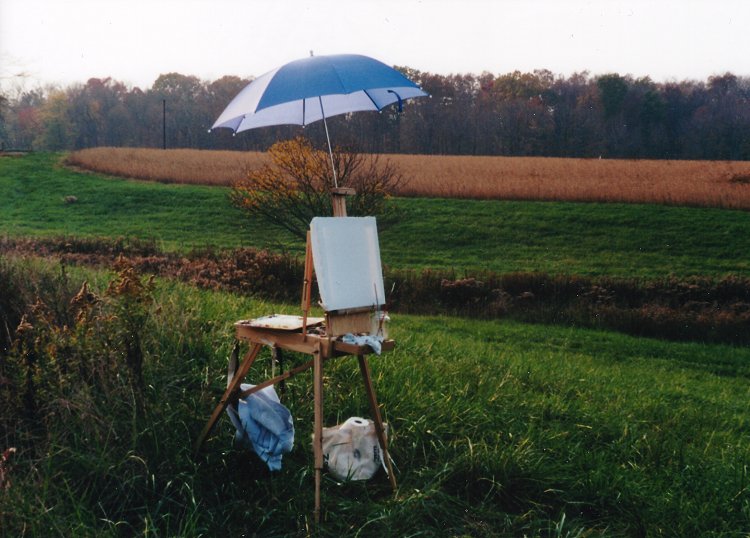 Dividing her time between plein air painting and studio painting, Stevenson created landscape and still life paintings filled with mood and light and wonderful atmosphere. Her paintings gave you the sense that you aren't just viewing a painting, but you are "there".

A Kentucky Post writer best described it:

"Jane Stevenson Zint chases the Sun.

She follows it through tree branches and traces it across the flank of a cow. She plots its shimmer at dawn. She ambushes its last ducky flicker. And she captures it on canvases that envelop the eye with moody shadow, luminous shapes and a feeling of such immediacy that an admirer can almost smell the moist earth of her pastorals."

Peggy Kriemer,
Kentucky Post


Stevenson painted landscapes, still life and figurative work for over twenty years. She worked primarily in oils, but also with watercolour and pastel.

Stevenson's pastoral scenes of Kentucky filled the viewer with the peace that nature offers . Her city scenes were equally compelling. Catching the city as it awoke or in the late afternoon as it wound down. These pieces invited you to linger and enjoy the view few rarely have time to see. Her paintings of Maine coastal subjects were luminous and different from those so often painted.

J. Stevenson Zint taught privately as well as for the North Light Art School affiliated with Artist's Magazine, and gave many workshops.

Stevenson resided in Kentucky and had a studio located in the Pendelton Art Center in Cincinnati, Ohio.
.
Stevenson's work can be found in private and corporate collections all over the world.